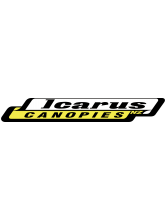 Manufactured in New Zealand, canopies made by NZ Aerosports have the leading edge in technology and design. They offer a wide range of canopies to suit the intermediate jumpers, for example the beautiful Safire 3, or for the very experienced canopy pilots or ground launch pilots there are several to choose from.
Prices are indicative only and fluctuate depending on exchange rates, so please contact us for a custom quote and for current delivery times.
For more information on the canopies, please click on the links below.
Showing 1 to 8 of 8 (1 Pages)