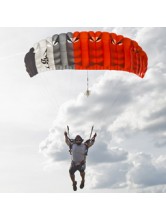 We are a dealer for all major parachute manufacturers, Aerodyne, Performance Designs (PD), Icarus World, NZ Aerosports and more.
We offer fully qualified advice from an instructor and will assist you to find a great canopy suitable for your level of experience. We also supply demo canopies. Please contact us for more information.
Canopy prices (inc VAT) are indicative only, and constantly change due to exchange rate fluctuations, please Contact Us for a custom quote.
For more information about canopies, please click on the links below.
Refine Search
Showing 1 to 1 of 1 (1 Pages)