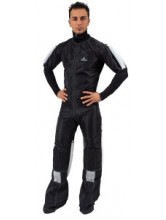 We offer a wide range of jumpsuits to suit your requirements, due to the fact that many of these are custom made items. prices vary depending on the options and fabrics chosen.
We are dealers for Boogieman, Tonysuits, Vertical Suits, Sonic Flywear, Tonfly, Bev Suits, Rainbow suits, Squirrel suits amongst many more. Whether you are looking for a suit specifically for the wind tunnel or a competition FS suit or a simple stock size Freefly suit, we will be able to assist you.
Please contact us and we will be able to guide you through the process of ordering. We offer a full measuring service and will be able to help you choose the best suit for you.
Refine Search
Showing 1 to 1 of 1 (1 Pages)