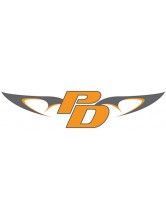 Performance Designs, Inc. is a world-class parachute manufacturer located in DeLand, FL, USA. For over 30 years, PD have been designing and building revolutionary canopies for every kind of skydiver. Motivated by a true love for skydiving and an insatiable curiosity for what is possible in parachute design, PD are constantly dreaming, creating, testing, and producing top quality wings.

Canopy prices (inc VAT) are indicative only, and constantly change due to exchange rate fluctuations, please Contact Us for a custom quote.
Demo Canopies available on request.
For more information about PD Canopies, please click the links below.
Showing 1 to 15 of 15 (1 Pages)