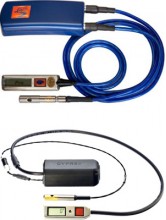 We supply Automatic Activation Devices (AADs) from the leading manufacturers: Airtec, MarS and Vigil.
Don't leave fate to chance. If you become unconscious in free fall or for any other reason you are unable to deploy either parachute, AADs are designed to activate the deployment of your reserve parachute which could mean the difference between life and death. Nowadays every parachute is equipped with an AAD and in some countries this is mandatory.
Please click on the links below to learn more about the different models available and information on servicing your AAD.
Showing 1 to 6 of 6 (1 Pages)